EYE Film Museum
EYE is sometimes called 'the cinematic memory of the Netherlands'. And in all modesty, that title is no exaggeration.
This national museum for film, located on Amsterdam's IJ harbour, manages more than 40.000 films from all genres. The collection represents an outstanding sample of film history, from classics and blockbusters to cult films. But EYE does not only focus on the past: it also closely follows the latest developments in film by organizing new acquisitions, programmes, and debates. The building is open 'from 11 to 11' every day for anyone who is interested in film and film culture. Our visitors are welcome in four cinemas, an exhibition space, a floor dedicated to educational activities, a store, and a bar-restaurant.
De Balie
De Balie is a well-known platform and center for the freedom of speech, contemporary art, politics, culture, cinema and media, situated near the Leidseplein in the heart of Amsterdam. Our (daily) programs consistently bear the mark of a sharp and deeply analytical character. Through talkshows, cinema, art, debates and theatre, De Balie mixes several points of view in a wayward and creative fashion.
Our Grand Café is a place to eat, drink, chat and work (feel free to use our open Wi-FI!). De Balie was founded in 1982 and is situated in the previous District Court.
FilmHallen
IDFA
Each year in late November, the International Documentary Film Festival Amsterdam (IDFA) transforms the city centre into a paradise for documentary film fans.
IDFA is one of the leading documentary events in the world, offering filmmakersand producers an international platform for their new documentaries.
Kriterion
A cinema steeped in history, Kriterion began life as a student association involved in hiding and saving many Jews from Nazi persecution. In 1945, the group, led by students Wouter Zeytveld and Piet Meerburg created the cinema as a place of employment for students who would have otherwise had to discontinue their studies. On November 6, 1945, the cinema opened with a gala performance for 200 guests.
65 years later, Kriterion, across the road from the Psychology Faculty of the University of Amsterdam, still caters to the student crowd, arthouse cinema fans and loyal neighbours, creating a relaxed atmosphere for those wanting to see a film and share a drink in the bar afterwards. As well as showing the best in international arthouse cinema, the Kriterion also regularly has film and debate nights, Modern Classics and the Sneak Preview night – for just 5 euros, catch a yet-unreleased film – but which film that is is a surprise.
Rialto
Rialto exhibits quality, innovative films from film directors from all corners of the world for a wide, diverse public. Rialto regularly organizes festivals and special events, such as readings, discussions and introductions to shown films. More than fifty volunteers work at the theatre. The biennial CinemAsia film festival is also held there.
The building that Rialto occupies was built in 1920 and was designed by the architect Jan van Schaik commissioned by film enthusiast Anton Pieter du Mée. Since 1982 the theatre has been in use by the Stichting Amsterdams Filmhuis. The theatre holds three halls and is next to a cafe.
Studio/K
Studio/K is a cinema, café-restaurant and club at Timorplein in the east of Amsterdam that is run by fifty avid students. From screening movies to tapping beers and from acquisitions to budgets, at Studio/K everything is done by students.
The cinema is characterized by a balance between popular films and art-house films. In a cozy living room atmosphere, with your plate on your lap, you are able to watch a movie. They also often organize special film evenings, for example around classics or a premiere.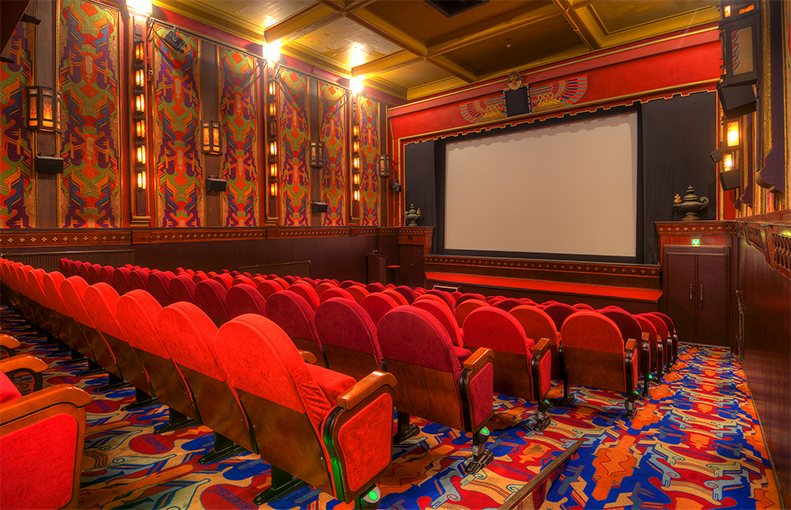 The Movies is the oldest still-in-use movie theater in Amsterdam. The complex is located on the Haarlemmerdijk 161-163 on the edge of the Jordaan. The Movies was founded in 1912 under the name Cinema Tavenu. Two years later the name was changed to Cinema Hollandia.
Until World War II The Movies served as a neighborhood cinema. Big films were first shown in major theaters of the city of Amsterdam, after which they came to the many small neighborhood cinemas . After the war Cinema Hollandia focused mainly on action movies. In the sixties, when many neighborhood cinemas perished, The Movies managed to survive.
The Movies is participating in the partnership Cineville.
Tuschinski
If you wish to travel back in time to the roaring twenties, the Tuschinski Theatre is as close as you can get. The building is a one of a kind mixture of several art styles that were popular around 1920, and has no equal screen such as its main screen, which still has the original two balconies and loges, and is beautifully restored in the 1990s. The cinema is now part of the Pathé concern, and most premieres are held in this very cinema. Moreover it is filled with a rich history of one of the most notorious cinema exhibitors of the previous age, Abraham Tuschinki. It is the last cinema in the Netherlands that still has an original Würlitzer theatre-organ standing on its original spot and in use every Saturday morning as well as on special occasions.
Everyone is welcome to discover all the buildings' mysterious fairy-like parts with an audio tour, available every morning (excluding days with special events) any time between 09:30 and 11:30 for 10€ including a cup of coffee or tea. Click here for more information.